MAYOR OF ZWOLLE OPENS PRODUCTION OF SOLAR CAR NUNA11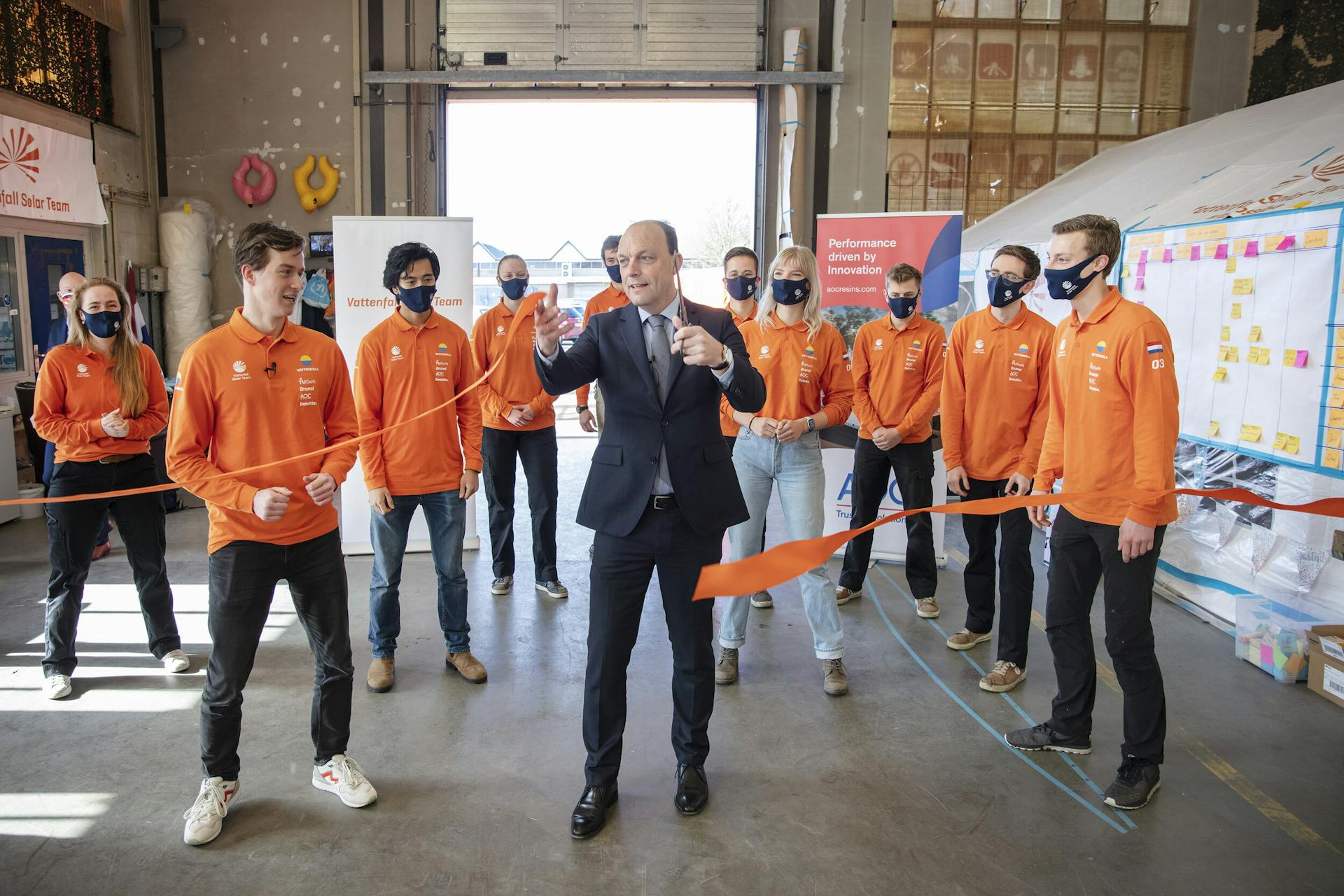 The opening of the hall did not involve high-tech, but simple, old-fashioned scissors. With an elegant cut, the hall was opened where in the coming months the ultimate solar racer will be worked in secret. The opening was of course corona-proof.
"In recent months, the students have worked hard to design the best possible solar car. I am proud that the technical knowledge they acquire at the university is being translated into reality here in Zwolle with the help of the local business community."
Peter Snijders, Mayor of Zwolle
With Nuna11, the team wanted to participate in the Bridgestone World Solar Challenge, the solar racing world championship that is held once every two years. The 3000-kilometer trek takes you right through Australia's sweltering outback. Seven times the students from Delft managed to conquer the world title, but the last time their car went up in flames in sight of the finish. The team was therefore keen to take revenge this year, but the race in Australia has been canceled due to the corona crisis. Nevertheless, the students set to work to produce the best possible car.
"After six months of calculations and design, we know exactly what the ideal solar car should look like. It would be a shame not to build that car. We continue to hope that we can eventually compete with our competition in a real race."
Christiaan Wiers, team captain Vattenfall Solar Team
Producing in own corona bubble
The team has settled in Zwolle and will live and work there for the next 16 weeks. This is done from a self-imposed corona bubble. The time to build the solar car is very scarce and every team member is desperately needed. A visit to the parents, for example, is therefore not an option. If one of the team members becomes infected, the entire production will come to a standstill.
The team is supported in production by neighbor AOC, which supplies the synthetic resin for Nuna11 and assists the members with action and advice during the production process.
"It will be really hard work to get everything done on time, but thanks to the curfew we know at least that we have to be home before nine at night every day. However, if we are going to work towards the deadline, we will have to wait and see whether the light will go out in the evening. "
Tim Burgers, technical manager of the Vattenfall Solar Team
In order not to make the competition, in Twente for example, any wiser, the design of the new solar car is still strictly secret. The only thing the Delft residents want to say about it at the moment is that Nuna11 will drive on three wheels. They do not want to release further details about the solar car until the car will be presented in June.