Brunel Solar Team loses leading position in Sasol Solar Challenge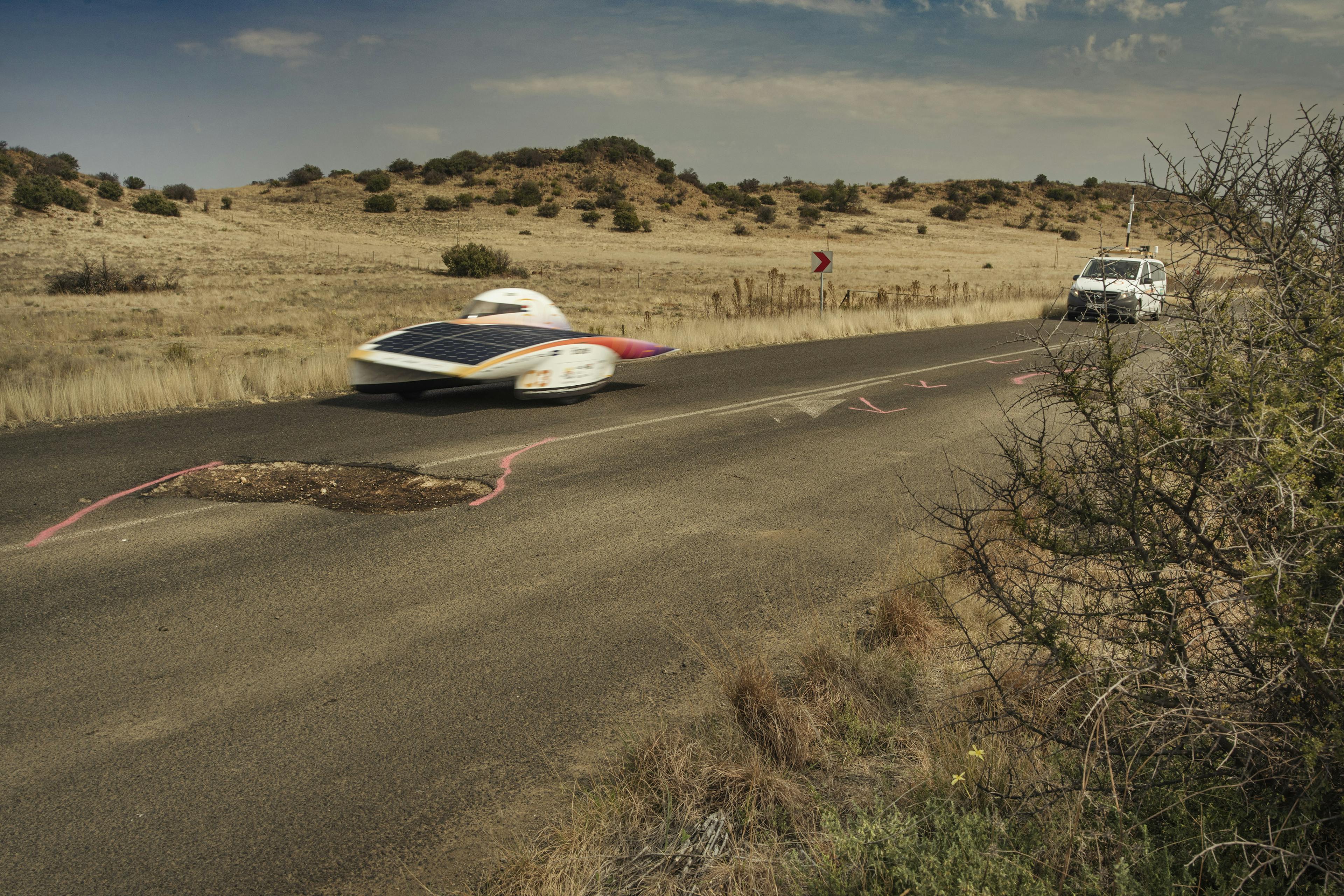 Photo credit Hans-Peter van Veldhoven: Many potholes in the road surface of the loop
Poor road surface and cloudy skies are a challenge on the third day
Gariep Dam, September 11, 2022 - The Brunel Solar Team had to make way for the competition on the third day of the Sasol Solar Challenge. The longest loop of the eight-day challenge was on the road from Bloemfontein to Gariep Dam. The poor road surface of the 80 km loop and the cloudy skies proved to be a big challenge. The Brunel Solar Team's initial lead was erased when the Belgian team made the decision to drive faster, allowing them to complete one extra loop.
Potholes and clouds
The Brunel Solar Team drove the so-called "Trip Up" the month prior to the Solar Challenge. During the Trip Up, the route of the challenge is explored backwards in order to scout and map obstacles and challenges along the route, before the challenge takes the teams back south. Aster Tournoy, one of the scouts, explains: "We were already aware that the road surface on the route of today's loop was very bad. We had marked the potholes and poor surfaces so we knew where to be extra careful. This helped a lot, because it allowed us to avoid damage to the car.'
 Cloudy skies also posed an extra challenge for the team today. Nuna 11s' solar panel is designed to allow the vehicle to continue charging, even in partial shade. Solar panels are typically only as good as their weakest cell. The solar panel of Nuna 11s consists of several modules. When shadow falls on one of these modules, that module is automatically temporarily switched off. In this way, the other modules can still function. However, the yield of the cells is of course lower on a day with clouds, which can be up to 50% lower than on a sunny day.
Both the clouds and the bad road surface had an effect on the speed of the car today. The Belgian team decided to drive faster today, which allowed them to do one extra loop of 80 km.
Strategy
For a challenge where the goal is to drive as many kilometres as possible, there are different strategies. Besides the usual factors within solar racing, such as sun, cloud cover and wind, the distance of the loop is a crucial factor throughout the day. The distance of the loop varies from day to day. The strategists determine if it is possible to get the lead by driving a big loop like today, 80 kilometres, or preferable to wait for a day with a smaller loop. In that case, a more precise calculation can be made of how many extra loops must be completed in order to catch up with the competition with as little energy as possible.
Final score
At the start of the day, the Brunel Solar Team had a lead of 60 km. By driving an extra loop of 80 km, the Belgian team now has a lead of 20 km over the Dutch team. Team captain Sanne Vilters sees no reason to panic yet: 'Tomorrow there are plenty of opportunities to take back the lead, because of the smaller loop distance of 39 km.'