Brunel Solar Team sees lead position shrink, Coach Marc Lammers reinforces team in South Africa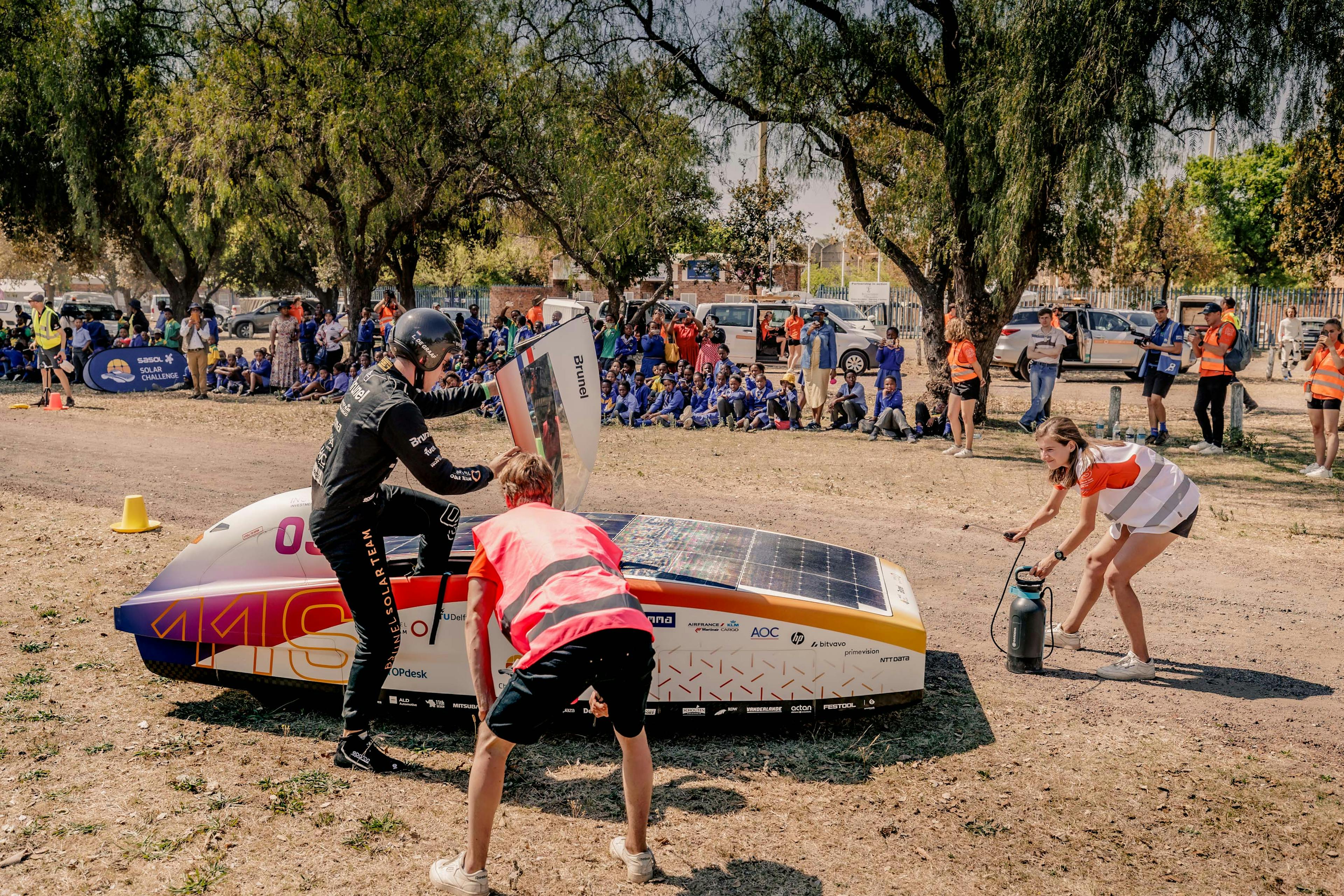 Photo credits: Jorrit Lousberg. Driver getting into Nuna 11s during a controlstop
Teamwork extra important in defending the lead
Bloemfontein, 10 September 2022 - The Brunel Solar Team started today's Sasol Solar Challenge in last place, despite having a 100 km lead. The students from Delft started with an 18-minute delay compared to the competition, because of their late arrival at the day-stop yesterday. The main focus of the second day was about maintaining the lead position. This requires a lot of teamwork and efficient operations. Coach Marc Lammers arrived in Kroonstad today to keep the team's focus in the right place.
Short loop
The challenge of the Sasol Solar Challenge is to drive as many kilometers as possible. The team attempted to drive the most "loops," or additional laps, which are located along the route and range between 20 to 80 km in length, as it will put them further ahead of the other teams. The lengths of the loops therefore determine the step size of the possible lead. Yesterday, the Brunel Solar Team drove two loops of 50 km more than the Belgian Solar Team. Today's loop was 20 km, so by driving five more loops today, the Belgian Solar Team could take the lead. During the 18 minutes penalty time, the Brunel Solar Team already lost 20 of their 100 km lead.
Operations
Gains can also be achieved in other areas besides driving quickly. Before each loop, the team is required to stop for at least five minutes. In these minutes the car must be switched off and on again. Furthermore, the driver must exit and re-enter the vehicle or switch drivers. To defend the lead position, it is essential that these so-called "operations" run as smoothly as possible. Fortunately, team coach Marc Lammers arrived in South Africa today to coach the team through the struggle: "It is tempting to concentrate on the activities of your rivals when facing difficulties. In order to make the most out of the numerous loop stops, it is important to work as a well-oiled machine with the team. I am proud that the team managed to maintain focus and by that the lead position,' said Lammers.
Final score
The Brunel Solar Team ultimately managed to keep the competition at bay, although the pressure was intense. The Dutch team remains in the lead of the challenge with now only 60 km ahead of number two, the Belgian Agoria, which eventually drove two more loops. Team leader Sanne Vilters of the Brunel Solar Team: 'We're pleased with our progress as a team, but we also understand that the race is still not set. Although a lead of 60 km sounds impressive, it can be overtaken with one more run the next day, so it will be another exciting day.'