A significant setback for Delft Solar Team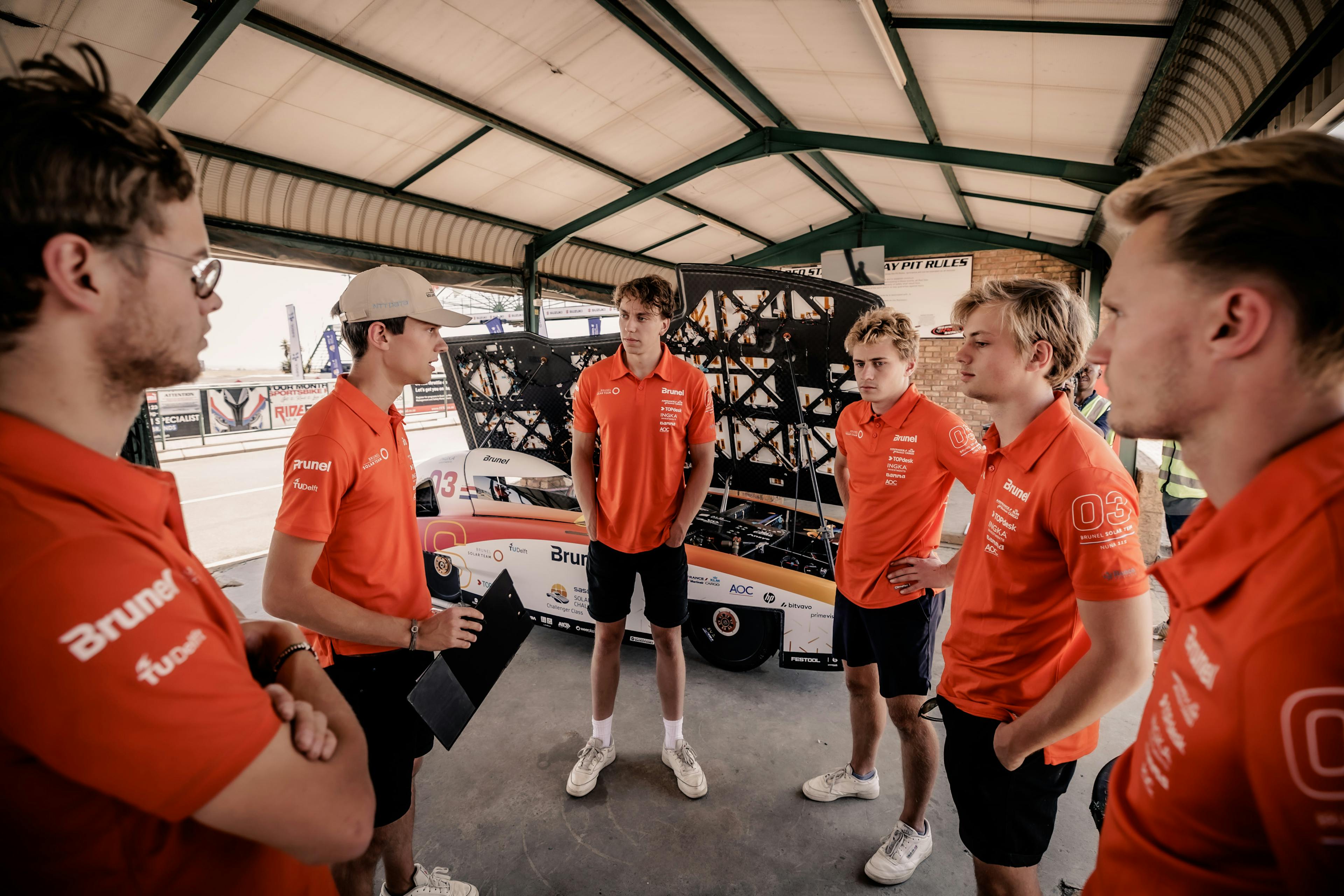 Photo credits: Jorrit Lousberg. The team discussing the plan.
8 September 2022, Johannesburg - The Brunel Solar Team will compete in the Sasol Solar Challenge in South Africa without their innovative motor tomorrow. The new motor was the secret weapon that the Delft students had been working on all year, and it was supposed to ensure that the team could reclaim first place after three years. Unfortunately, the motor is still not dependable enough, so the team will compete in the challenge with an old electric motor next Friday. With this engine, beating the strong adversary, the Belgian team that beat the Brunel Solar Team in the past two races, will be a significant struggle.
This is a big setback for the team's students. The motor was the project on which they worked tirelessly for several nights. Unfortunately, the development process has been delayed, thus they have not been able to finish the motor's intended testing. This was critical for ensuring dependability over the eight-day hard race in South Africa. The loss of this asset generates a great deal of uncertainty for the team. Lars van Keulen, technical manager, explains: "The alternative is an old electric motor, which we also used last year. This engine operates well, but the new motor has the potential to make a significant impact."
Final preparations
The last preparations for the Sasol Solar Challenge are taking place in South Africa this week. Before the team can compete, their self-built solar car, Nuna 11s, must be thoroughly tested and inspected. They check here to see if the car conforms with all requirements. The battery, motor, and weight, for example, are all tested. Despite the motor's shortcomings, the Nuna 11s seems promising: it weighs only 130 kg, making it the lightest Dutch solar vehicle ever!
Things almost went awry during the dynamic scrutineering. The solar car swerved strongly into the slalom due to the excitement of the driver, and the left wheel came off the ground. Fortunately, driver Laurens responded quickly, and Nuna landed on all three wheels. 
The qualifying is the first event in which the solar cars compete after the scrutineering. During this qualifying round, all solar cars do a lap on a track near Pretoria. Pole position goes to whoever achieves the quickest lap.
In qualifying, the Brunel Solar Team took pole position. Given the motor delay, this comes as a great surprise, but it will be interesting to watch how Nuna 11s performs during the Sasol Solar Challenge. The course pales in comparison to the huge distances and mountains that the teams will face in South Africa.
Sanne Vilters, team captain, maintains the positive attitude: "This year has taught us how to deal with disappointments. We will do everything in our power to make a difference in other areas. We have an unique solar panel and believe that we have planned the race strategy so well that we can still win tactically."